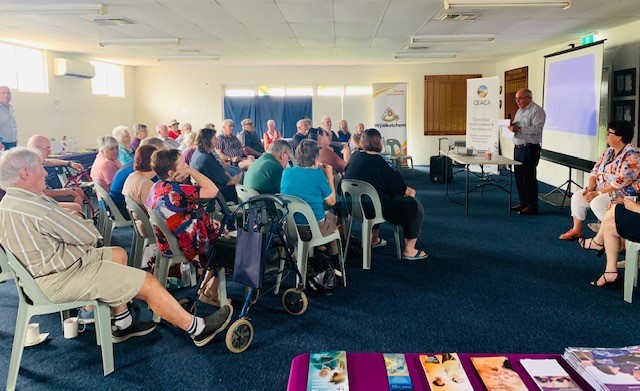 CEACA Health & Ageing Information Session
By Jo Trachy
CEACA Inc held its second Health & Ageing Information in Wyalkatchem on the 23rd March 2023.   The information sessions are held to assist local community members to learn more about government funded Home Care Package program, NDIS and other health services.
The CEACA Chairman, Terry Waldron welcomed speakers from Right at Home (In Home Care & Assistance), WA Country Health Services and Therapy Focus.  We were also joined by NDSP (local disability plan management specialists) who were on hand to provide useful information in relation to disability services available in the region.
With the assistance of the Shire of Wyalkatchem, their Councillors Quentin Davies and Mischa Stratford and local community organisations, we were able to not only provide information for local community members to listen to, but also information to take home and discuss with family members to plan for the future or to ensure that they are currently receiving all of the services available to them.
These information sessions are vital and ensure that the elderly and those living with a disability are kept informed and provided with relevant up-to-date assistance and support whenever it is required.
CEACA will be holding another information session in the near future!  If you would like to register for a future event or request additional information, please email info@ceaca.org.au or contact 0414 136 687 (Operations Manager)